Geometric Bedding Sets – You'll Be Amazed at the Deals!
Modern Geometric Bedding Sets
Geometric bedding sets are a modern and contemporary look that has really gained popularity quickly. There are so many gorgeous geometric patterns and designs to choose from that its almost too hard to pick just one!  I've put together some of my favorite geometric print bedding sets in a variety of colors to choose from.  I think that a geometric comforter set in the right color combination can really do a lot of a bedroom that is lacking pizzazz.
In a Hurry => CLICK HERE for the Best Deals on Geometric Bedding
Beautiful Light Blue and White Geometric Bedding Set
This is one of my favorite geometric bedding sets because of the soft colors and tones. I could easily freshen up my room with a coat of white paint, some white curtains, a white rug and add this light blue and white design to it. I love how universal, yet simple it is.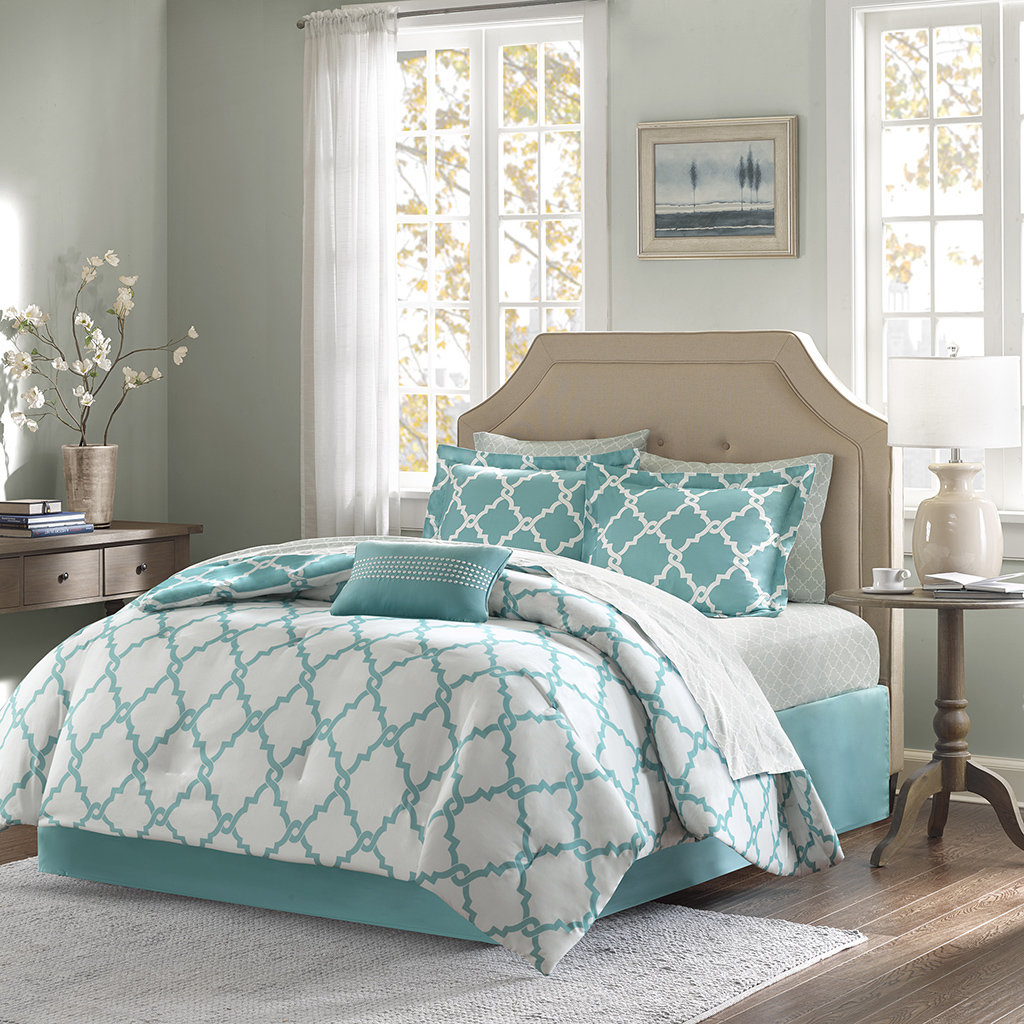 Madison Park Essentials Merritt Comforter Set

Teal Color Geometric Bedding Sets
Here are some stunning geometric bedding sets in the color teal blue and white. Both of these designs have a soft and delicate tone to them. The color scheme is a happy one, adding color and style to the room in a cheerful way. If you wanted teal colored bedding, geometric prints is the way to go because they are not over whelming and add depth to the room.
echo design Cottege Reversible Comforter Set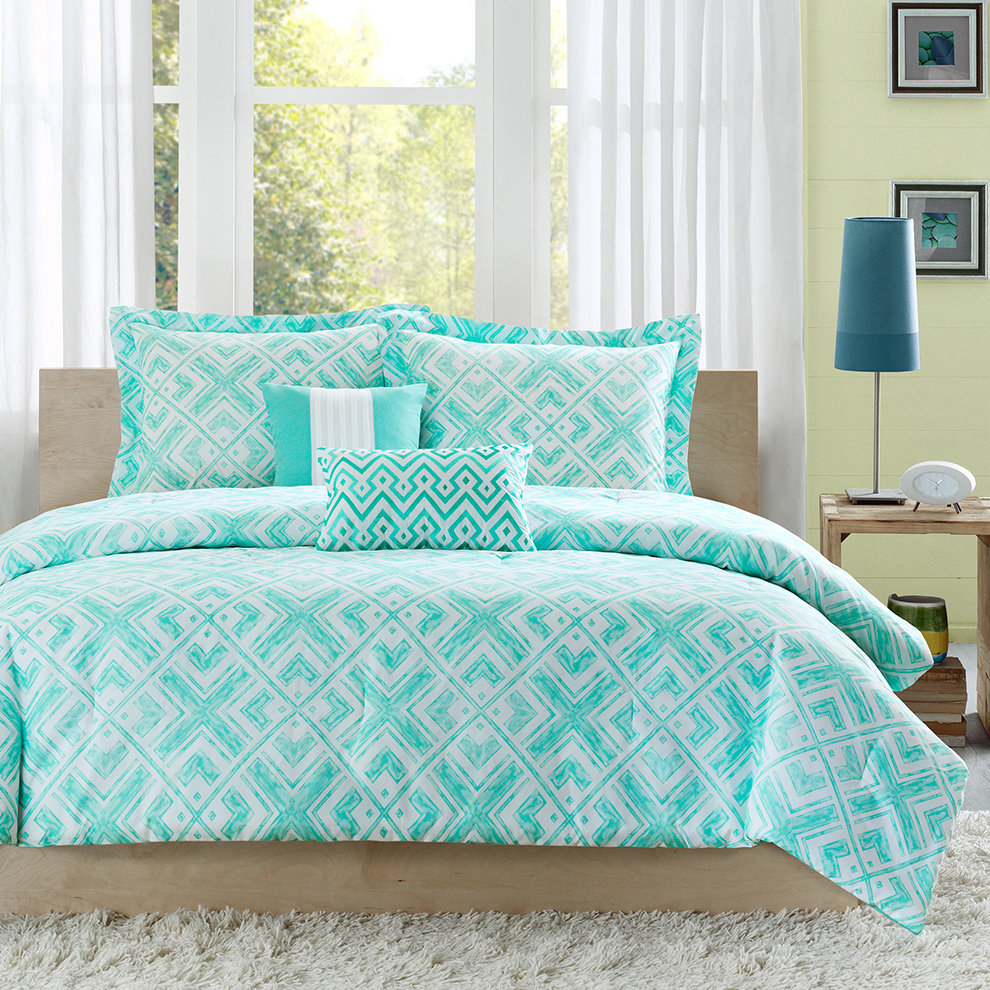 Intelligent Design Charleston Comforter Set
Mercury Row Gossamer Geometric Comforter Set
Here are two of my favorite geometric print bedding sets, both are the same geometric print design in taupe and blue colors. This geometric comforter set comes in a twin, full, queen and king size set.  It's made of 100% natural cotton and feels and good as it looks.  It's not often you can find a geometric twin bedding, but this set has it in two colors.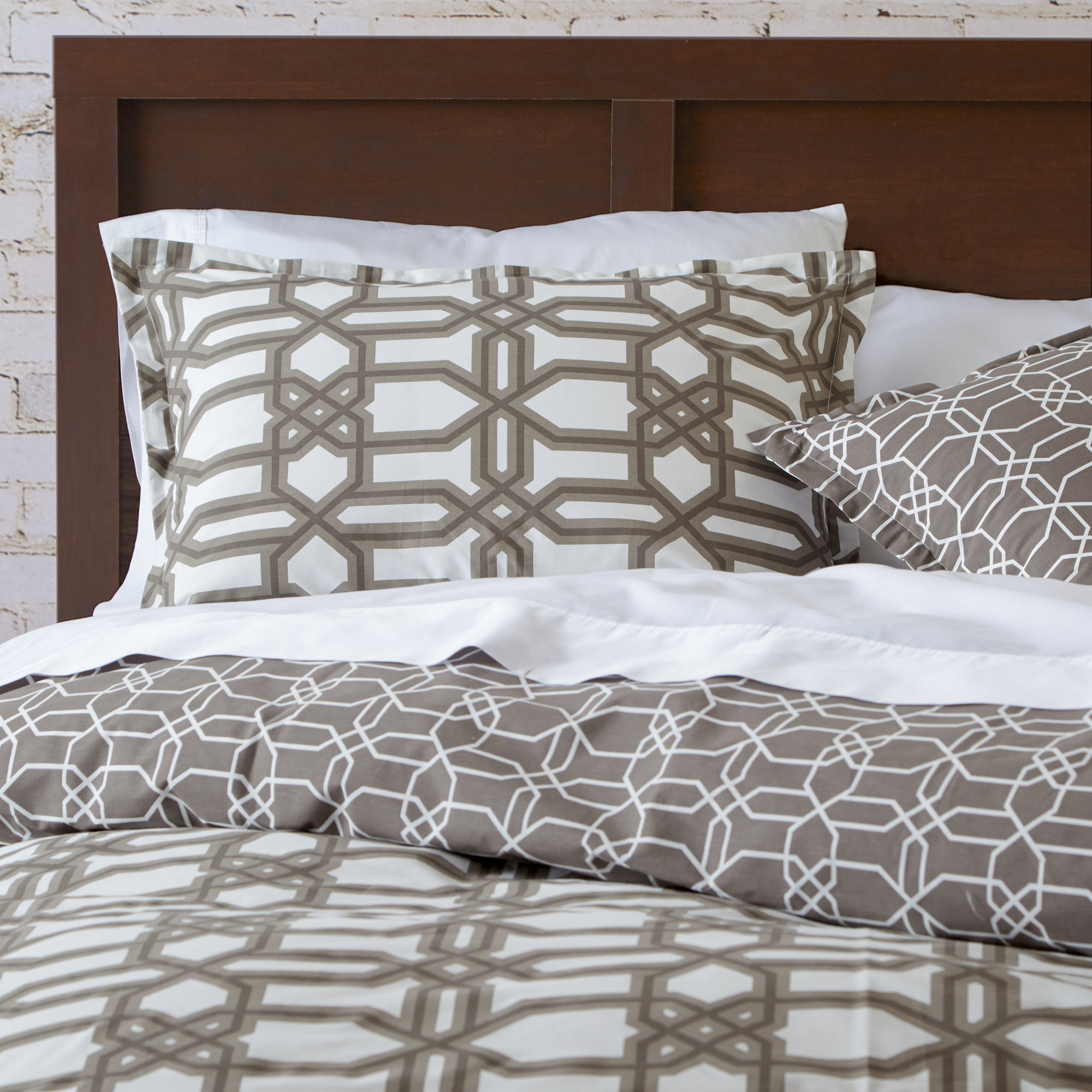 Mercury Row Gossamer Comforter Set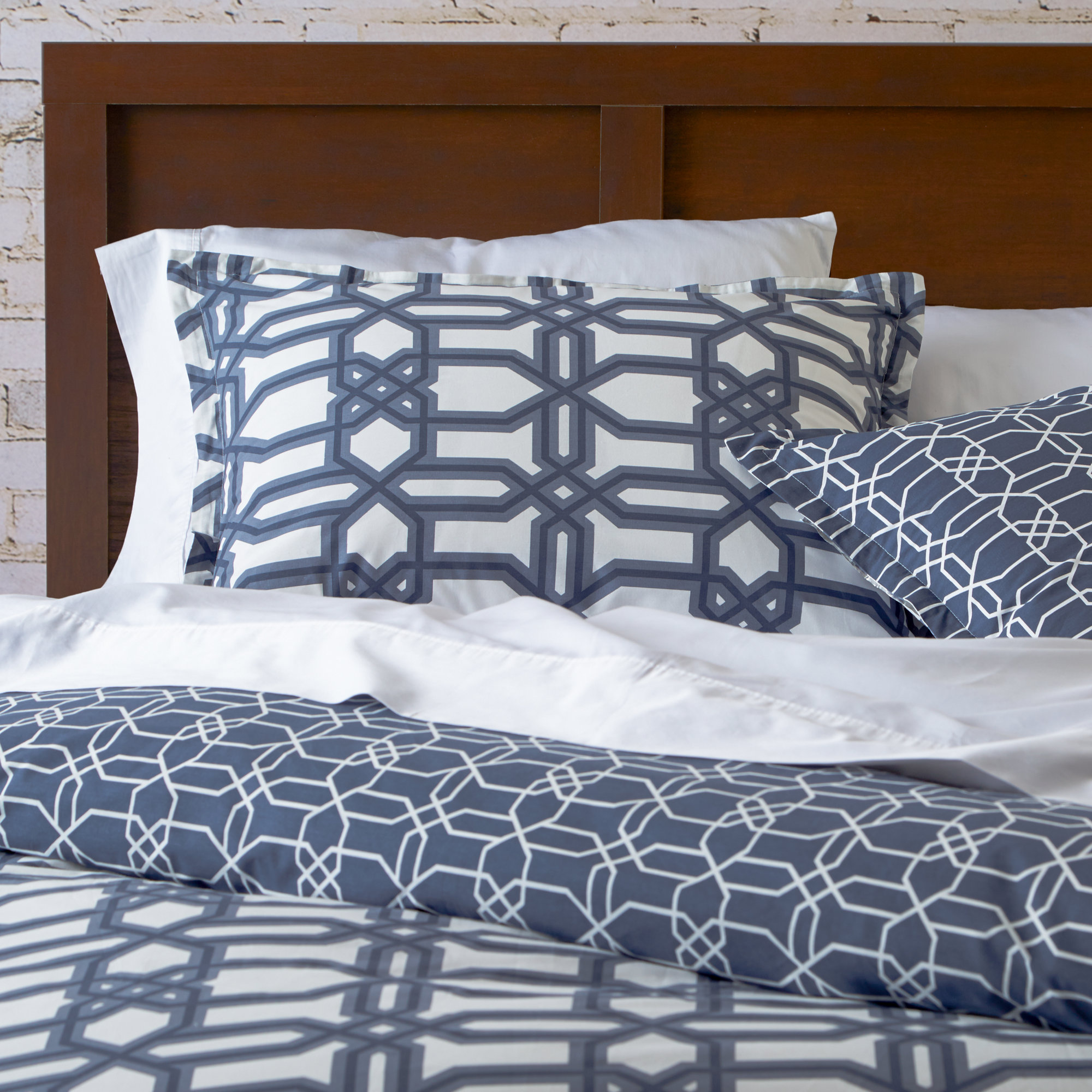 Mercury Row Gossamer Comforter Set
Purple Geometric Pattern Bedding
The first geometric pattern bedding is a subtle purple that fades into taupe color – a very nice look for any bedroom. The purple and teal geometric comforter set is available in twin size, which is very hard to come by. Both of these are very pretty purple geometric print bedding sets to choose from.  I personally love the way purple looks when paired with geometric patterns and designs.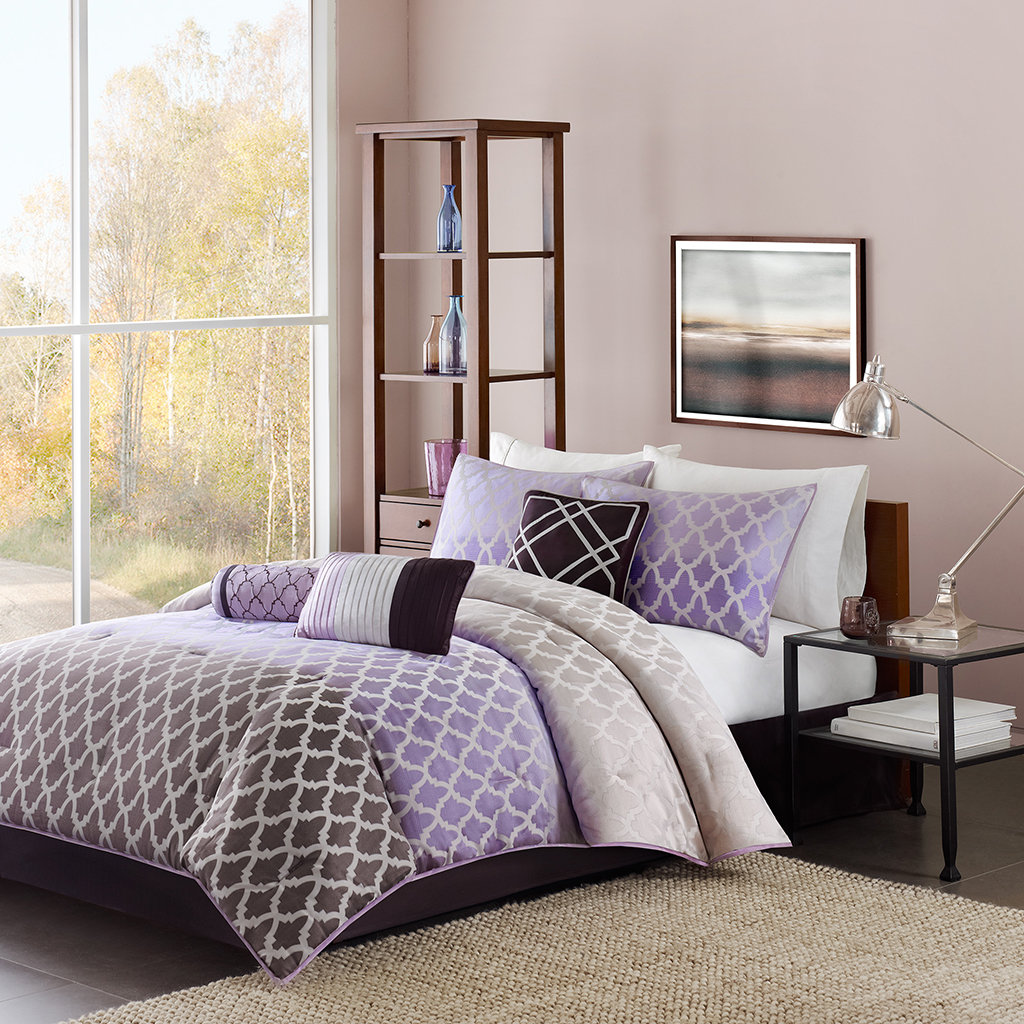 Madison Park Bayer 7 Piece Comforter Set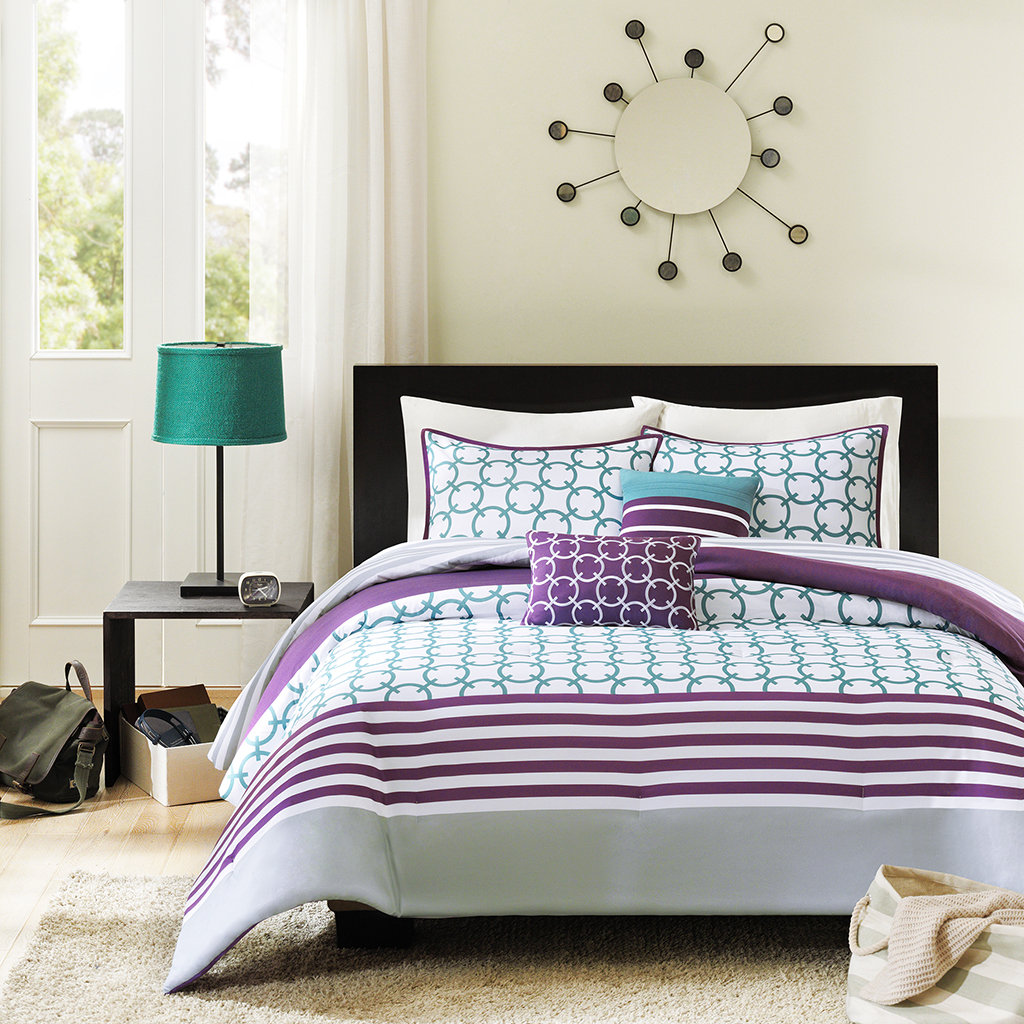 Intelligent Design Halo Comforter Set
Purple and Teal Geometric Pattern Bedspread
Here is another take on the geometric patterned bedspread using purple and teal colors. I love the geometric print this style has because it intermixes lots of cool designs.  This particular bedding is available in a queen and twin size set.
Teal Blue and White Geometric Bedding Set
This is another favorite of mine because of the light colors.  The teal blue color is not over powering and compliments the white beautifully.  This bedding set would work well in a white room with white furniture and blue accents.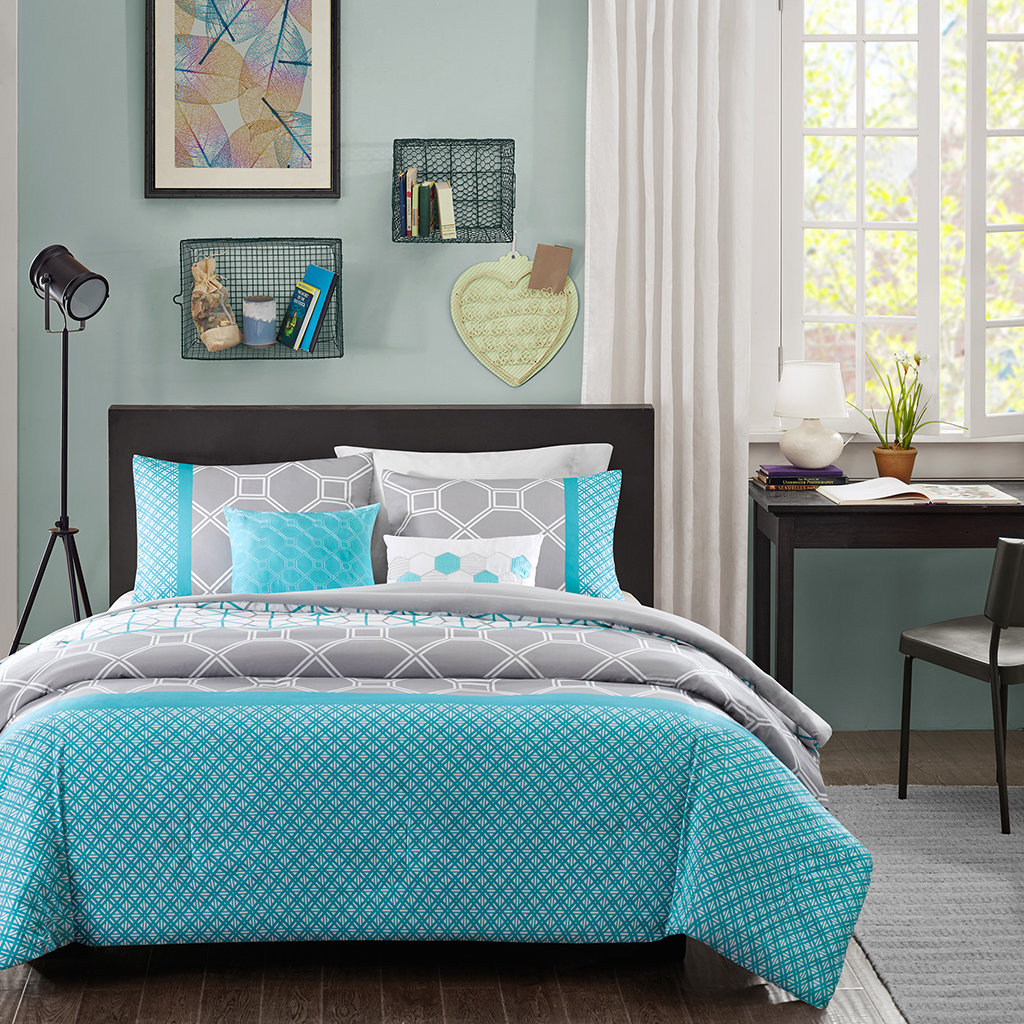 Intelligent Design Clara Comforter Set

How to work with Geometric Bedding Sets:
When choosing a geometric bedding set for your room keep in mind that your other decor accessories such as lamps, rugs, curtains, furniture, and wall art should be kept simple. Add solid colors to compliment the colors in your geometric bedspread. A solid color lamp, floor rug, curtains and even throw pillows should be a solid color. You can have one or two pillows to compliment the design but the rest should be simple, solid colors that don't take away from the geometric print.
Navy blue and bright yellow look really nice together in this unique geometric bedding set featured above.  I think what I love most is that it has this nautical feel to it.  I could see this comforter set working in a variety of bedroom designs. Geometric twin bedding like this could work for a boy or a girls room.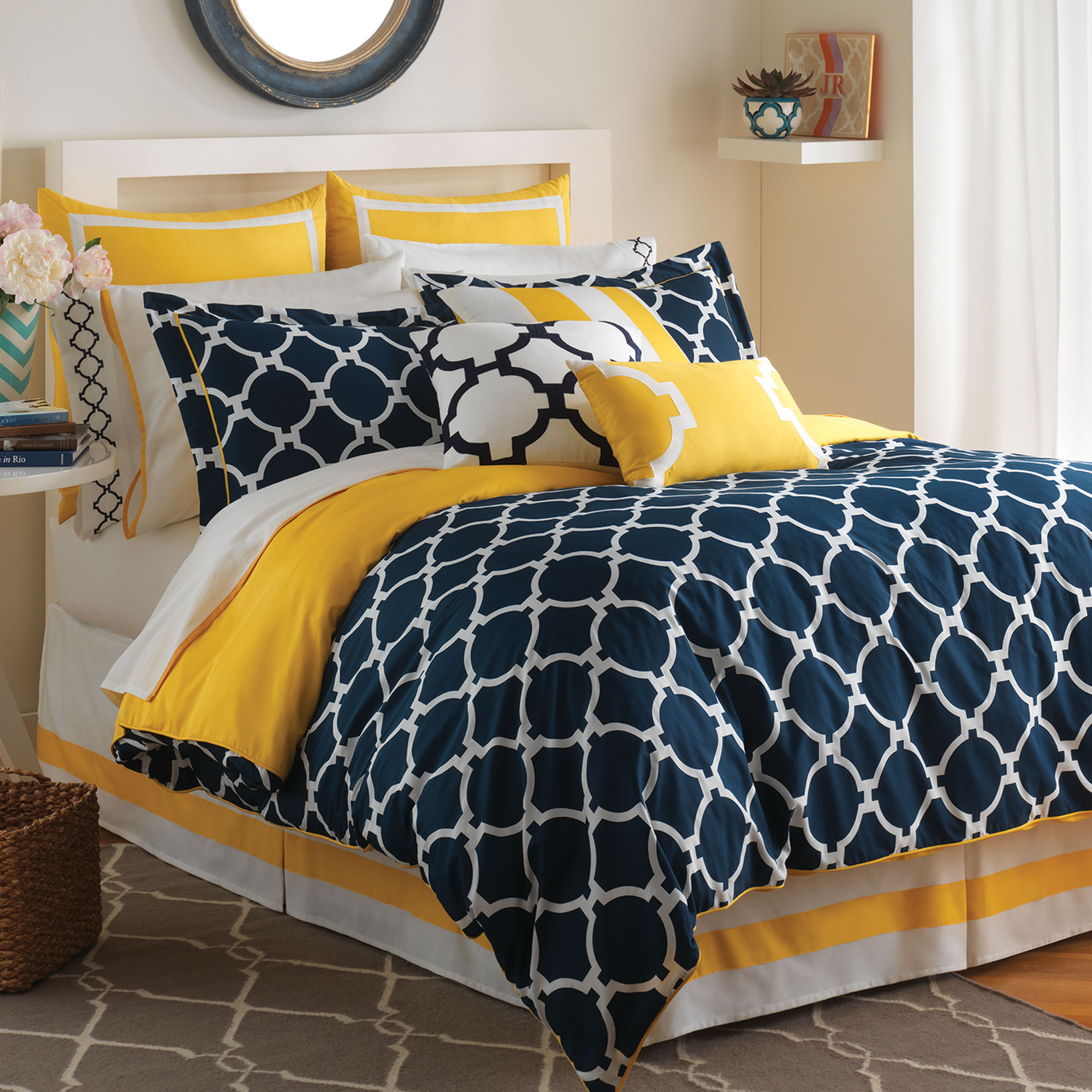 Jill Rosenwald Home Hampton Links Bedding Collection
Black White Geometric Bedding
A nice black geometric comforter like these can really define a space. What I love about black and geometric bedding sets is that they combine a classic color with a modern look. Invade your bedroom space with something contemporary and stylish.
Trina Turk Residential Trellis Bedding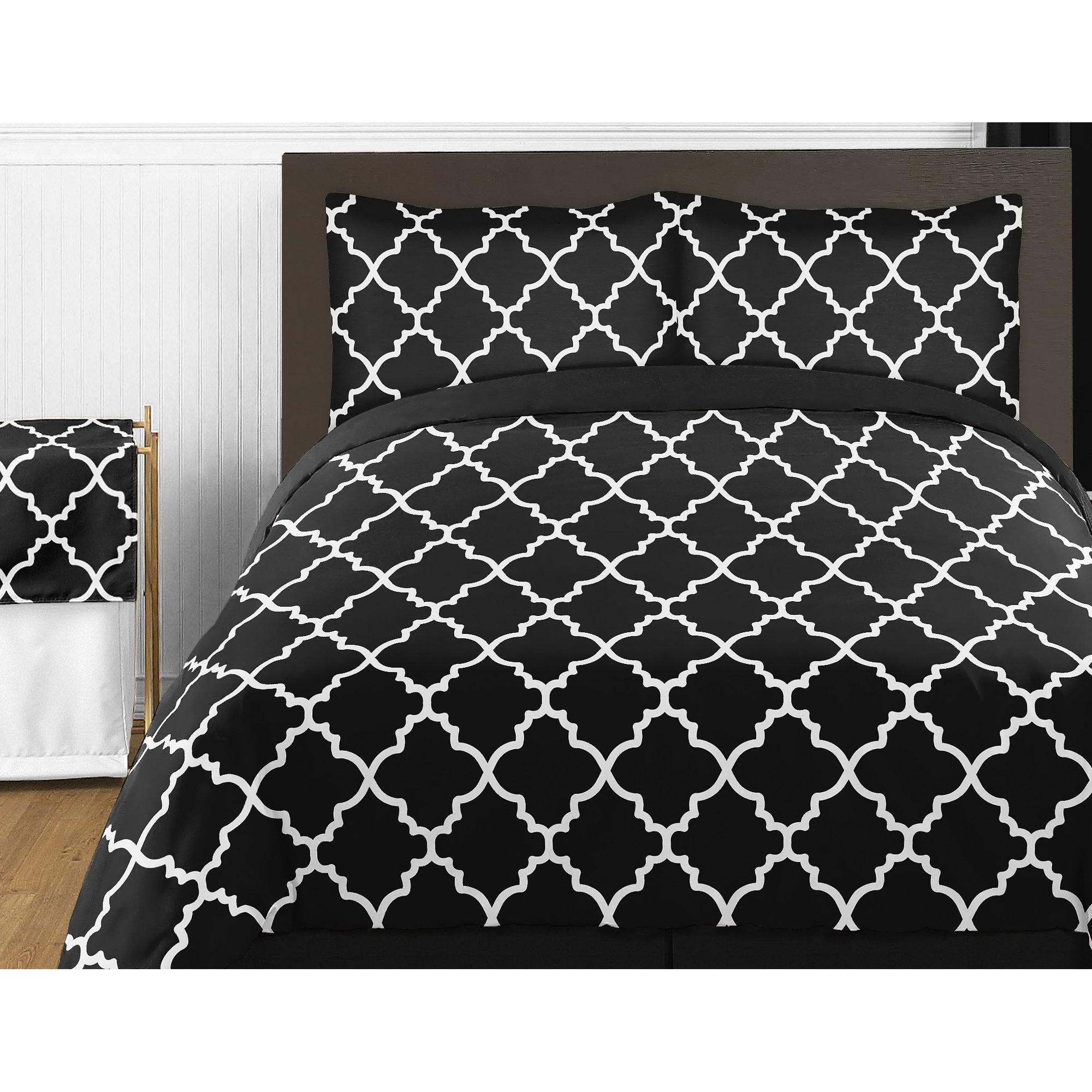 Sweet Jojo Designs Trellis Bedding Set
Blue Geometric Comforter
I love the look of a pretty blue geometric comforter in the bedroom. There are so many different shades of blue that work well with geometric print bedding sets that it's really hard to narrow it down to just a few of my favorites. A geometric comforter set is the easiest way to add a contemporary look to a bedroom.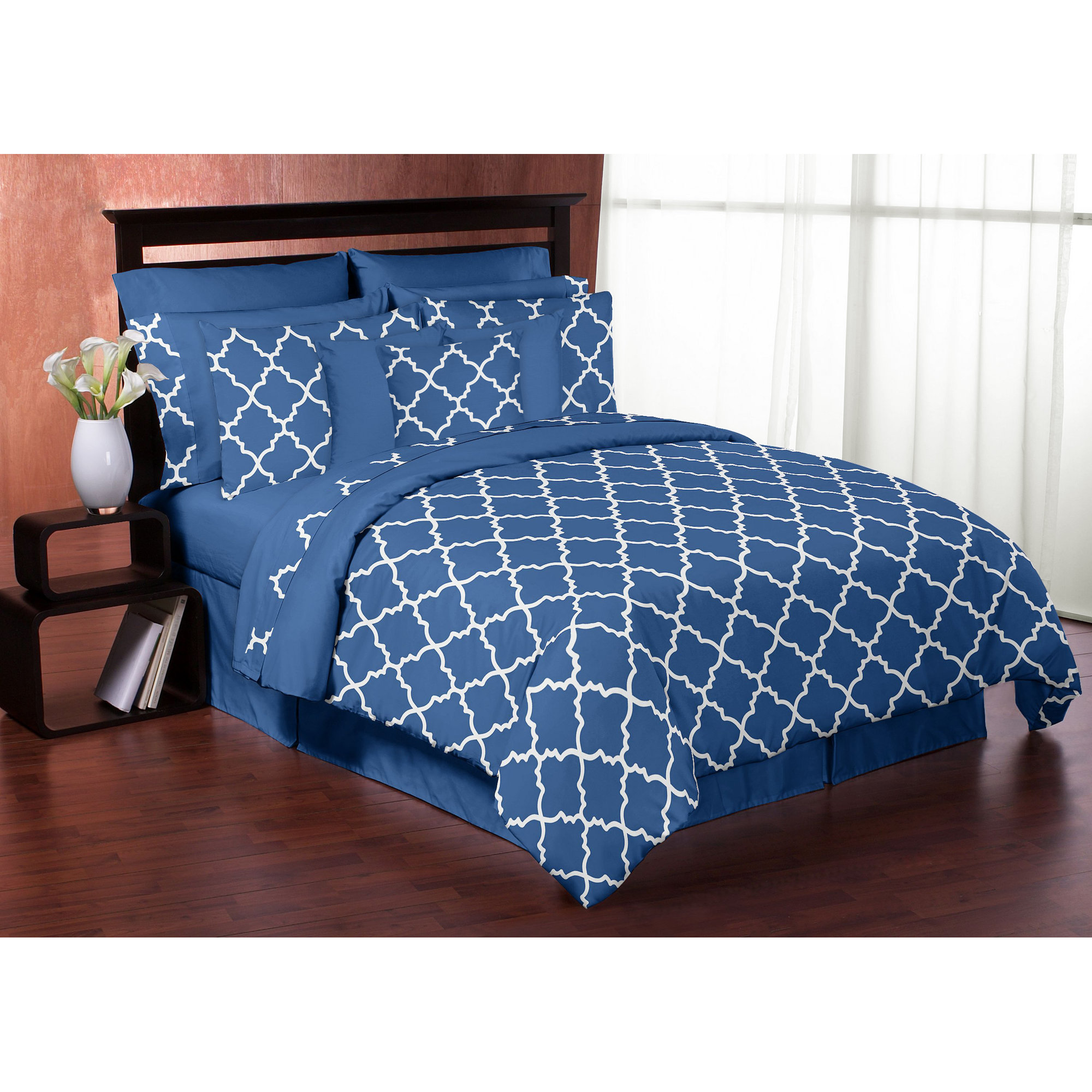 Sweet JoJo Designs Trellis Collection
Hampton 7-Piece Modern Geometric Comforter Set, Queen, Blue
Blue Geometric Bedspreads
These blue geometric bedspreads have some very pretty patterns and designs on them. Different shades of blue work with different bedroom designs. Whether you want a darker or lighter shade of blue is up to you.
Lush Decor Lattice Geometric 3-Piece Quilt Set, King, Blue
Pinzon 300-Thread-Count 100-Percent Cotton Lattice Duvet Cover Set, Full/Queen, Spa Blue
Orange Geometric Bedding Sets
What I love about combining orange and geometric patterns and designs is that it gives this Moroccan style feeling to the bedroom. I really love using orange geometric pattern bedding because it has a unique tone that really brings out the essence of the bedroom. Click on any of these orange bedding sets to view more details, sizes and price information.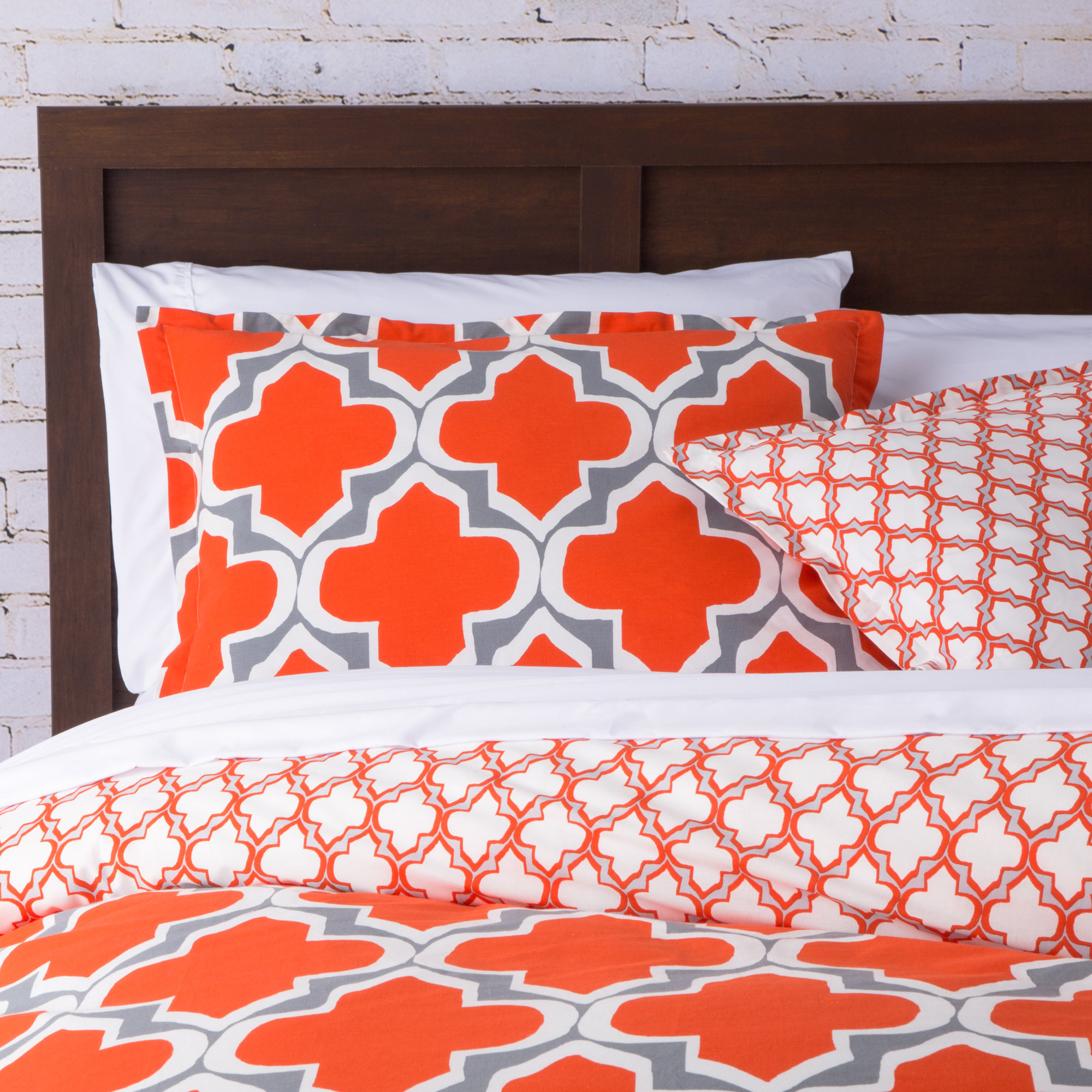 Mercury Row Tangier Quatrefoil Comforter Set
Eastern Accents Bukhara Bedding Collection
Geometric Patterns and Designs in Bedding
Here are some of my favorite designs in a variety of styles, from comforters to exquisite duvet sets.  Geometric patterned bedding comes is so many styles that it can be hard to choose unless you already know what color and design you want.
Hallmart Collectibles Westgate Comforter Set
Metropolitan Home Sagrada Bedding Collection
Gray Geometric Print Bedding
Gray is a good color for geometric pattern bedding because the dark charcoal color looks nice against the repetitive designs. A bedding set like this is very simple and easy to add to any bedroom decor design.
Hampton 7-Piece Modern Geometric Comforter Set, Queen, Grey
More Bedroom Decor Ideas: