Teal (Turquoise) and Brown Bedding
Teal and Brown Bedding Sets
Teal and brown bedding is both relaxing and comforting in the bedroom.  The soft colors and tones remind you of a relaxing atmosphere that you would get at the beach or on a tropical island.  Capture the essence of teal and brown in different shades, from soft light tones to darker and rich colors.  You can easily rejuvenate the bedroom with a new bedroom comforter and some accent pillows. The quickest and easiest way to jump start your bedroom design is by first purchasing your bedding.  You can work around the colors in the bedding a lot easier than the other way around.  Start with the teal and brown bedding of your choice and then accent around that design.
In a Hurry? >> See ALL Teal & Brown Bedding Sets HERE!
Teal and Brown Royal Paisley Bedding Set
Royale Linens Danford Bedding Collection
This teal and brown royal bedding set is exquisite in the master bedroom.  This is one of those sets that both a husband and a wife can agree upon because its not too girly or masculine.  The beautifully detailed paisley design in rich chocolate and teal colors is a brilliant combination.  This bedding set has all the charm you expect to see from Royale Linens.  What I love most about this bedding set is that its made of 100% cotton, so it not only looks good, but it feels good too.  Cotton is one of those materials that makes you want to lay on the bed and lounge with a good book.  This teal and brown bedding set is available in queen size comforter set.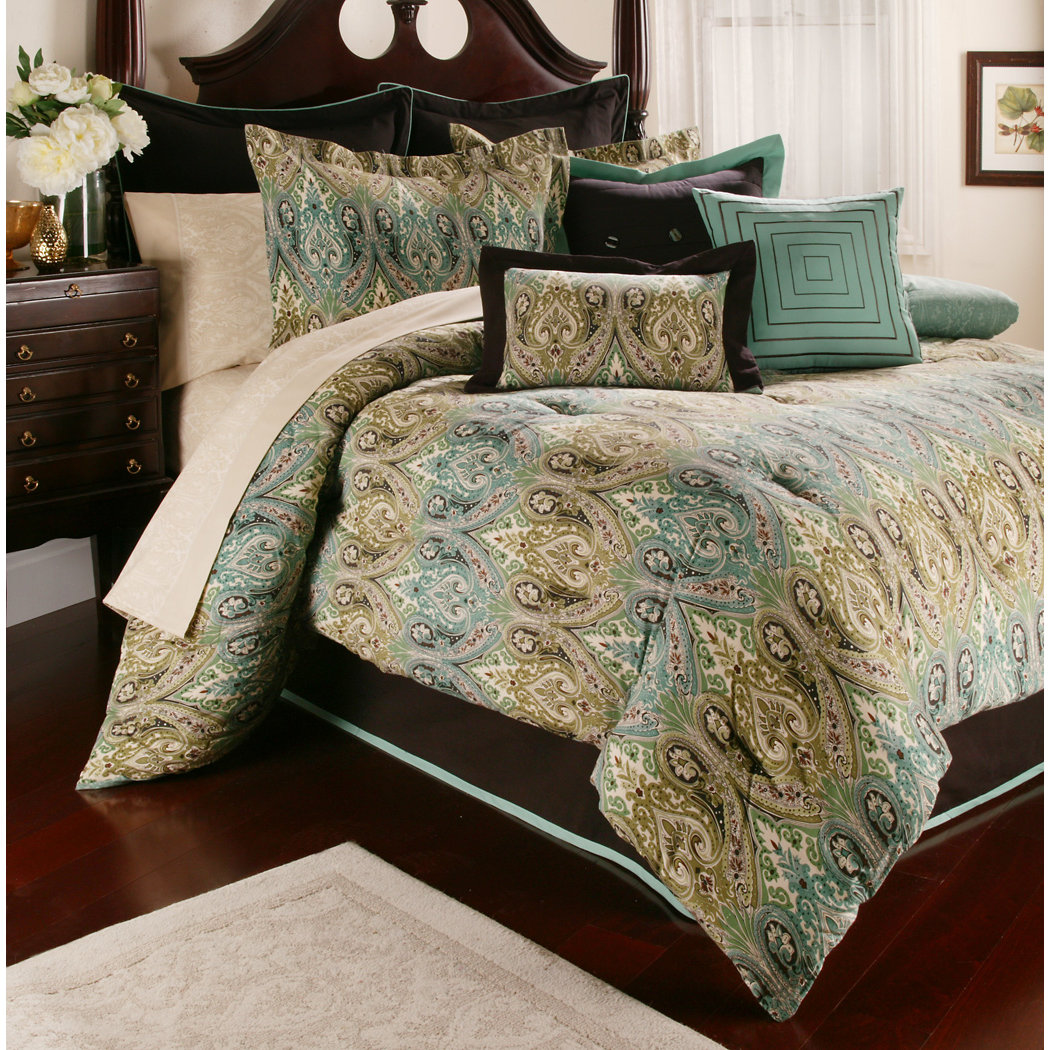 ---
Aqua and Brown Floral Bedding Set
Madison Park Essentials Avalon Comforter Set
This lovely floral aqua and brown comforter set is elegant and beautiful.  This aqua and brown bedding set features a lovely mix of large scale flowers throughout the entire design.  This bedding ensemble is available in most major sizes; twin size, full size, queen size, king size and even California king size.  It's an excellent choice for the master bedroom because it's not overly feminine and the colors scheme is very tranquil.  This aqua and brown bedding set features the comforter, pillow shams and decorative pillows.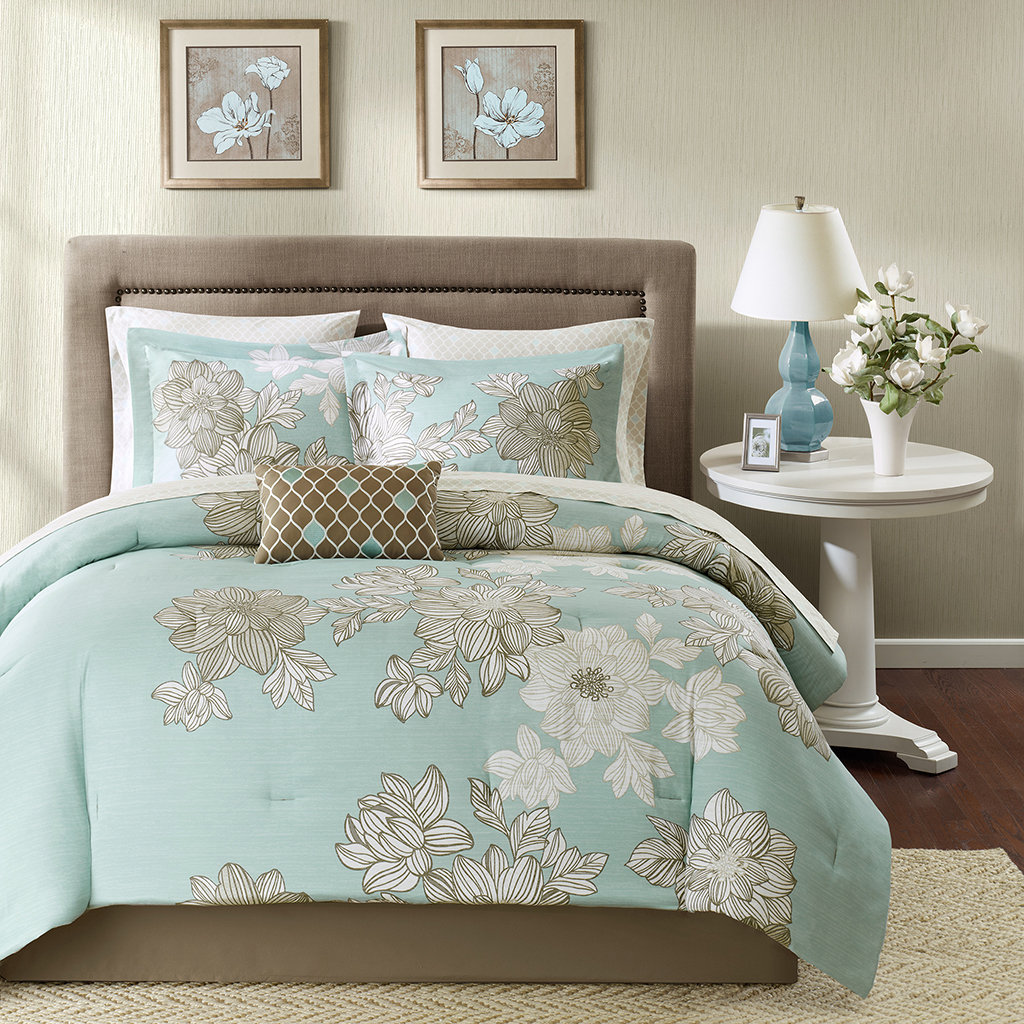 ---
Teal and Brown Floral Bedding Set
Teal and Brown Bedroom Decorating Pieces
This ravishing bed set is perfect for anyone looking to sleep in luxury. This teal brown bedding adds some class and graceful elegance to the room.  This charming comforter set includes the comforter, bed skirt, throw pillows and matching shams. I love this teal and brown comforter set.  The floral design going throughout really gives it a charm that is elegant and sophisticated in the bedroom.  The color scheme is brilliant with it's mix of teal brown and white throughout.  This set includes eight pieces to add that touch of elegance to your teal and brown bedroom decorating ideas.
---
Aqua and Brown Luxury Bedding Set
Premier Comfort Madison Park Genevieve 7 Piece Comforter Set
This aqua and brown bedding set has luxury written all over it, it's got the appeal of royalty with its luster and style.  This seven-piece comforter set includes everything you need to create this stunning look in the bedroom.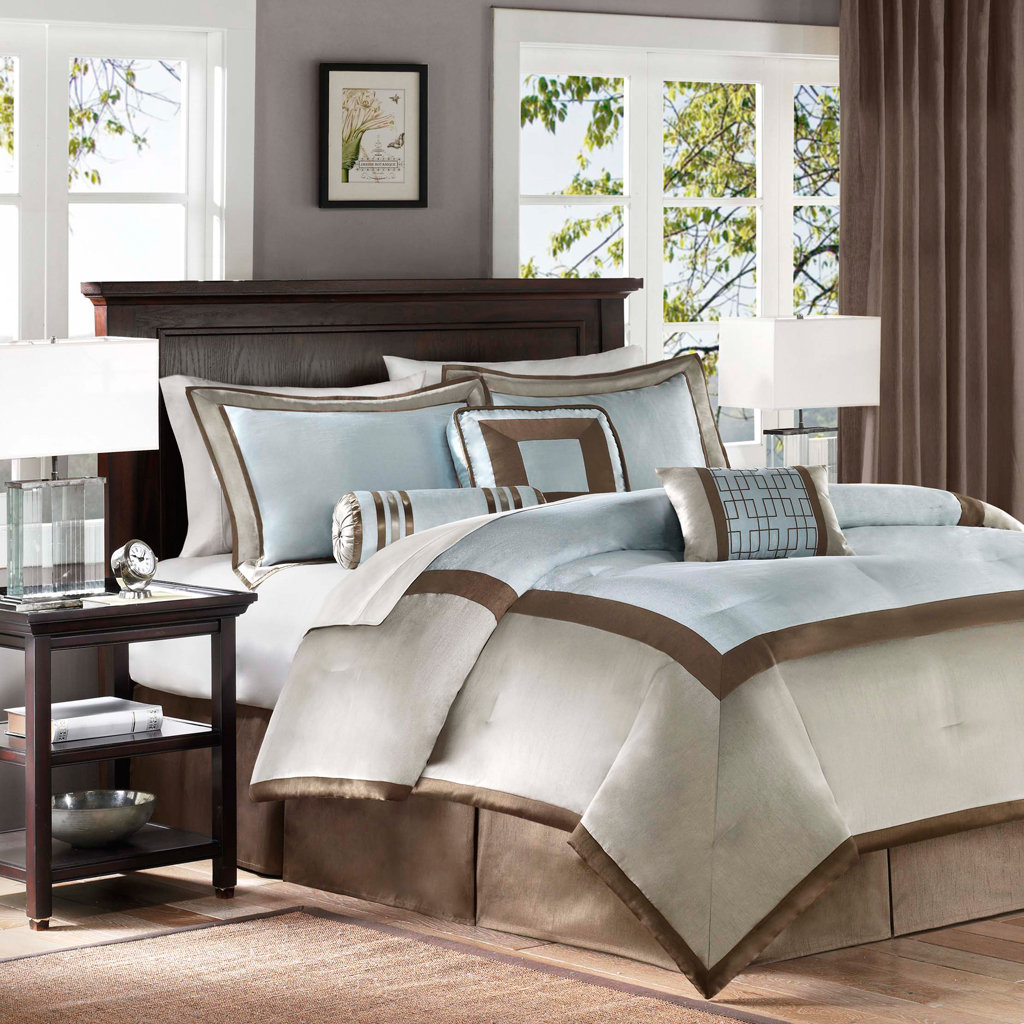 ---
Brown and Teal Leave Print Bedding
Leaves Embroidery Pleated Comforter Set Teal Bronze Brown Gray
A rich milk chocolate brown comforter covered with beautiful embroidered teal leaves.  This dazzling bed set is so attractive as well as comfortable. This set has the most divine color of blue mixed with brown and gray.
---
Aqua and Brown Madison Park Comforter Set
Madison Park Serene Comforter Set
This lovely aqua and brown floral bedding is soft and sophisticated, featuring a mult-textured feel throughout. This gorgeous bedding set is available in different sizes.  It's the perfect addition to any master suite. It has that royal look that anyone would want to have in their bedroom.
---
---
Teal, Brown and Beige Bedding Set
Chic Home Bliss Garden Comforter Sets
This teal, brown and beige comforter has the look and feel of luxury in the bedroom.  The design is perfect for a master suite because it encompasses serenity and gives a peaceful vibe throughout the room.  This bedding also comes in a few other color combinations too if you want to see it in something besides a teal, brown and beige color.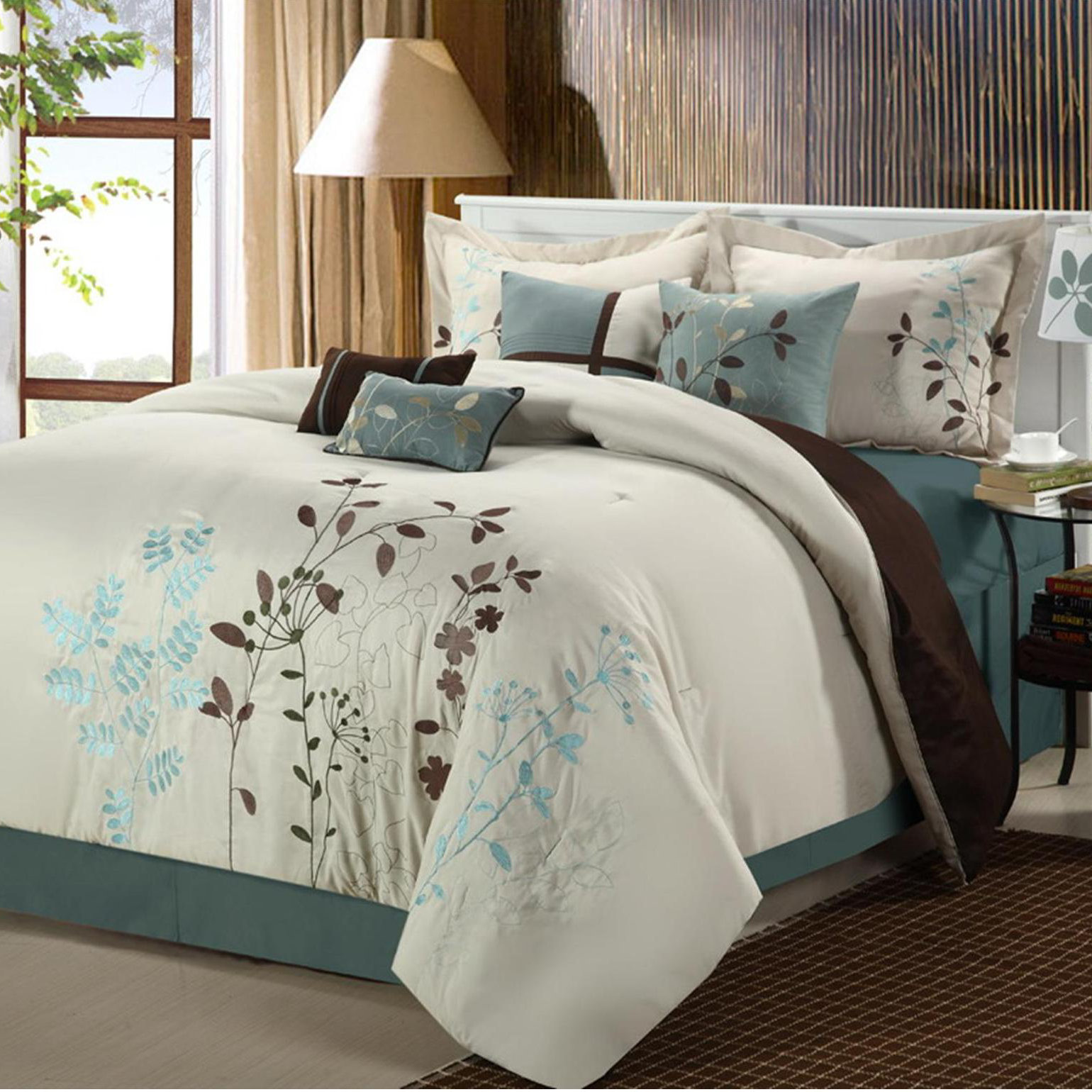 ---
 Teal (Turquoise) and Brown Bedding for the Bedroom
Teal and brown bedding for the bedroom is a gorgeous color combination. Because the colors teal and turquoise are so similar in a lot of ways, I've combined both variations of this lovely combination here on this page. Brown and teal are two colors that blend magnificently together to bring you an amazing color scheme unlike any other.  Teal and brown bedding is perfect for anyone because of the rich and creamy tone.
Teal blue and brown are both feminine and masculine mixed together. There are many names for teal in bedroom decor, including, aqua and also turquoise.  Some common names used in home decor for the color brown is chocolate, cocoa and coffee.  Aqua and brown comforter sets are are a more watery blue color, while a turquoise is much richer.  In home decor and bedding, turquoise and brown bedding is very similar to teal and brown or chocolate and aqua. When the word aqua, teal or turquoise comes first, usually that is the more dominate color in the bedding color scheme.  Like the bedding featured here.
Turquoise and brown bedding is calming and serene in the bedroom. Redecorate your bedroom with turquoise and brown bedding. What makes turquoise, aqua and teal such great colors to pair up with brown is the same reason the beach looks so inviting; the cool colors of the blues mixed with the warm tones of the earth tone color of the sand are relaxing. There is a tranquility that these two colors bring to a bedroom when you use them together. It's a crisp, clean look that adds serenity to your life. Turquoise and blue are used in different designs for not home decor but for parties, weddings and fashion. Turquoise and aqua bring life to the drab world of brown color.
Teal, Brown and Yellow Bedding
Teal (Turquoise), Brown and Yellow work really well together in a lot of different ways.  There are so many different prints and shades of turquoise and brown to choose from. Turquoise, teal and aqua mixed with brown is a trending color combination that is popular with women, men and teenage boys and girls. It's a universal color scheme that everyone can live in.
 Brown and Teal (Turquoise) Bedding
Do you want something where brown is the more dominant color? Coffee and Cocoa are usually a darker, richer brown opposed to just brown or chocolate.  In your bedroom decor and with fabrics in general, these are good search names when you are looking for something specific.
A bedroom is a place to relax and to unwind, turquoise and brown bedding can help achieve serenity.  Brown and blue bedding sets are known to add a tranquil and peaceful effect to any bedroom.
When you would like brown to be the more dominate color in your bedroom decor, you want to search for bedding with brown as your first color, like, "brown and turquoise bedding" for example.  Here is some gorgeous brown and teal bedding. Teal and brown bedding is a calming and relaxing color duo for your bedroom.
Teal and Brown Bedding and Comforter Sets
Here are a couple more comforter sets that I find charming in the teal and brown color combination.
Teal and Brown Bedroom Ideas
Create a Teal and Brown Bedroom
The quickest way to a bedroom makeover is to change out your old bedding for some fabulous new bedding.  Teal and brown are two colors that work beautifully together.  Anything in the blue and brown family coordinates magnificently together.
Teal is a shade of blue green that really adds a serene spirit to the bedroom.  Different shades of teal include turquoise and aqua, all work well with dark and light browns.  From dark cocoa brown to a light milk chocolate, all shades of brown are impressive with blue.
Once you have decided on the bedding style you love, it's time to start thinking about the walls. We start with the walls after choosing the bedding because this space has a huge impact on the design of a room.  If you can, a fresh coat of paint will do wonders!  Fresh paint makes a room feel new and inviting and gives it that magazine look when you're done with your whole bedroom makeover.
Adding posters, pictures, wall decals and quotes is a great way to bring your own personality into a room.  Remember to choose items that have the same colors as your teal and brown bedding set.  Decals, wall quotes and other wall decor should have the same color tones as the bedding to really pull the room together.
Some other ways to add pops of teal and brown color to the room is through decorative accents like toss pillows, curtains, rugs and furniture pieces.